RAINETTE
Present at Maison&Objet Fair
From 08-12 September 2022
SMART GIFT
Hall 1 — Stands D94
RAINETTE is an innovative and responsible startup which produces urban bicycles smart, fun and handy equipments and accessories. Visit us!
Our credo is to bring fashion into sports equipment! Rainette is an innovative and responsible company that develops ingenious and fun accessories for urban bikes. We specialise in reflective accessories and rain gear for bicycles. Mackintoshes, sleeves, spokes, laces, stickers... We believe that visibility and style can totally match together.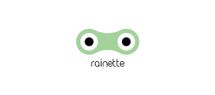 Add
News
07/09/2021 Tout ce qu'il vous faut, à vélo.

Rainette is an innovative innovative and responsible that creates beautiful, clever, technical technical and practical accessories  for urban cyclists.

07/09/2021 La véloche, l'indispensable à vélo | Fabriquée en France La véloche, the essential bike bag | Made in France

NEW stylish, unisex, multi-purpose and essential for all active mobility enthusiasts! We all know what it's like to waste ten minutes rummaging around in the bottom of your backpack for your keys or wallet. It's a pain, we agree! And it's even more so on a bike or scooter. But that was before, now you have the veloche®, an accessory as beautiful as it is practical.