ZACARIAS 1925
A contemporary thrust in the traditional craft of hand-weaving / Bags + Home.
ZACARIAS 1925 is a mix of progressive design & the art of hand-weaving. ZACARIAS 1925 offers luxury bags & home accessories that are exclusively hand-woven by master artisans. Creative director Rita Nazareno's interest lies in the alteration of an object's form & function. She's an Emmy Award-winning television creative services' producer whose shift to design is a product of passion & family ties. ZACARIAS 1925 is exclusively hand-woven at the workshop founded in 1925 in Manila by Rita's grandmother.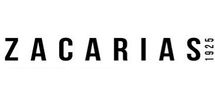 Add
ZACARIAS 1925
S.C.Vizcarra Workshop 737 Roxas Blvd.
Baclaran, Parañaque Metro Manila
1702 METRO MANILA
Philippines
http://www.zacarias1925.com