ZOLLANVARI INTERNATIONAL
Attending MAISON&OBJET
06-10 September 2019
FOREVER Hall 7
Creators of Carpet Art.
ZOLLANVARI carpets embody the spirit of Persian carpet design and weaving treasured across the world. Our passion has always been for the artistic weavings of the nomadic people of southern Persia, where almost all our collections are woven. The art of carpet making has always exemplified the expression of a culture - a way of life. Our use of pattern, color and symbolism have thus been constantly evolving. What sets us apart is the active encouragement we give our weavers to allow their own aesthetic sense to shine through the designs. Individual, expressive and unique carpets are the result.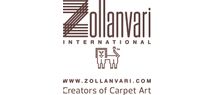 Add to selection
News
05/09/2018 Zollanvari International launch a host of new creations at Maison et Objet

To mark the developments at this edition of Maison et Objet, Zollanvari International are presenting the largest number of new creations than at any previous show - from contemporary designer carpets and flatweaves to re-imagined tribal and traditional ones, all made using 100% highland wool from the Zagros Mountains region - weavings with soul, history, innovative spirit and design virtuosity.